News & Press Releases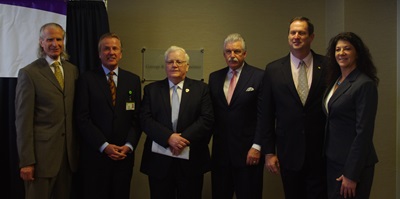 Silver Cross Hospital, in partnership with US HealthVest, is planning to open a 100-bed behavioral health hospital on the New Lenox campus. The hospital will be named Silver Oaks Hospital. A press conference was held on Wednesday, January 11, 2017 to announce the plans. If approved by the State of Illinois, the facility is tentatively planned to open in 2019.
Silver Cross Hospital expressed their commitment to addressing the mental health and substance abuse needs of the Will County community by expanding inpatient and outpatient services. This local access to care will greatly benefit the participants of the Will County Specialty Court programs - Mental Health Court, Drug Court, and Veterans and Servicemembers Court.
Pictured in the photograph from the press conference are Gerald G. Kielian, Will County Public Defender; Paul Pawlak, Silver Cross Hospital President/CEO; Larry Walsh, Will County Executive; James Glasgow, Will County State's Attorney; Tim Baldermann, Village of New Lenox Mayor; and the Honorable Judge Carla Alessio-Policandriotes.